Just click the photo of the Contemporary Art Hand Woven Basket which interests you, and you can read more about the basket, see additional photographs and purchase the basket right from that page!  Each Contemporary Basket is ready for immediate purchase and shipping!

Basketry is widely accepted as the oldest known form of handcraft of mankind. Since ancient times, people have constructed baskets to fill specific needs: baskets to carry, baskets to store, baskets to collect and baskets to display.

Throughout the centuries, the basket has remained an integral part of daily life in many cultures, even today.  In contemporary western society, filled in high-tech gadgetry, nothing has yet replaced the wastebasket, the picnic basket, and the shopping basket, low-tech but an essential item in day to day living.

For the past quarter-century, artists have been taking the simple basket form and pushing it in new and exciting directions, creating objects infused with content and meaning.

Working within already broad traditions, basketry artists are inventing new methods of construction, often using highly unconventional materials, and creating both utilitarian and non-utilitarian vessels, even abstract sculptures.  In the process, they transform the everyday into the exotic.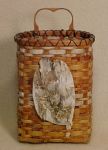 Contemporary Art Handwoven Baskets

Simply Baskets offers the finest selection of quality handwoven unique and colorful contemporary basketry for collectors - many are ARTIST SIGNED!  Even if you collect contemporary art, these baskets will compliment your collection!  The handwoven baskets currently available for sale are: