Just click the photo of the Shaker Ash Basket which interests you, and you can read more about the basket, see additional photographs and purchase the basket right from that page!  Each Handwoven Shaker Ash Basket is ready for immediate purchase and shipping!

What is an Ash Shaker Basket and who were the Shakers?

The Shakers were a religious sect well known for among many things as their simplicity of design and fine quality manufacturing.  Their aim was to create heaven on earth.  The supreme leadership of the Shakers chosen profession was the manufacturing of what was called fancy baskets, for which they carried on simultaneously with their temporal duties.  They started a sale industry turn of the nineteenth that set new standards in quality of design and manufacture of American basketry.  Their baskets were sold and distributed across most of America and Europe.

The Shakers learned basketry partly from the Algonquin Indians who were also trading partners. Although both men and women were involved, because basketry didn't require male support to keep it going, it thrived longer than the other industries when males failed to join the order in sufficient numbers. The Shakers took the simple basket and elevated it to an art form which in turn generated a large dollar income for the community.

Perhaps the most important element in Shaker basketry was the use of wooden molds or forms of almost unlimited varieties. This allowed the Shakers to produce baskets in commercial quantities. The Sisters produced most of the baskets, while the Brothers provided support in the preparation of the raw materials, the manufacture of the basket handles and other woodworking processes, thus guaranteeing efficient production and high output. The wood mold, of which there were dozens attest to the variety of styles and heights of baskets produced.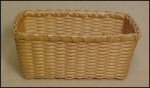 Shaker Handwoven Ash Baskets

Fine selection of quality handwoven and hand-crafted ash Shaker Baskets for Shaker basketry collectors!  This special selection of handwoven Shaker baskets includes: